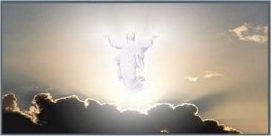 I have glorified You on the earth. I have finished the work which You have given Me to do. And now, O Father, glorify Me together with Yourself, with the glory which I had with You before the world was.
2 For He shall grow up before Him as a tender plant, And as a root out of dry ground. He has no form or comeliness; And when we see Him, There is no beauty that we should desire Him.
3 He is despised and rejected by men, A Man of sorrows and acquainted with grief. And we hid, as it were, our faces from Him; He was despised, and we did not esteem Him.
4 Surely He has borne our griefs And carried our sorrows; Yet we esteemed Him stricken, Smitten by God, and afflicted.
5 But He was wounded for our transgressions, He was bruised for our iniquities; The chastisement for our peace was upon Him, And by His stripes we are healed.
6 All we like sheep have gone astray; We have turned, every one, to his own way; And the Lord has laid on Him the iniquity of us all.
7 He was oppressed and He was afflicted, Yet He opened not His mouth; He was led as a lamb to the slaughter, And as a sheep before its shearers is silent, So He opened not His mouth.
8 He was taken from prison and from judgment, And who will declare His generation? For He was cut off from the land of the living; For the transgressions of My people He was stricken.
9 And they made His grave with the wicked-- But with the rich at His death, Because He had done no violence, Nor was any deceit in His mouth.
10 Yet it pleased the Lord to bruise Him; He has put Him to grief. When You make His soul an offering for sin, He shall see His seed, He shall prolong His days, And the pleasure of the Lord shall prosper in His hand.
6 who, although He existed in the form of God, did not regard equality with God a thing to be grasped,
7 but emptied Himself, taking the form of a bond-servant, and being made in the likeness of men.
8 Being found in appearance as a man, He humbled Himself by becoming obedient to the point of death, even death on a cross.
9 For this reason also, God Highly exalted him, and bestowed on Him the name which is above every name,
10 so that at the name of Jesus EVERY KNEE WILL BOW, of those who are in heaven and on earth and under the earth,
11 and that every tongue will confess that Jesus Christ is Lord, to the glory of God the Father.
31 Therefore when he had gone out, Jesus said, "Now is the Son of Man glorified and God is glorified in Him;
32 if God is glorified in Him, God will also glorify Him in Himself, and will glorify Him immediately.
The creator of all things (Colossians 1: 15-16)
Retains all wisdom and knowledge (Colossians 2:3)
Upholds all things through His power (Colossians 1-17; Hebrews 1:3)
Purity; no blemish, stain, sin, defilement, lying, deception, corruption, error or imperfection (1Peter 1:18-20)
Sufficient for all matters of life and godliness (2Peter 1:3-4); for creation (Colossians 1:16-17); for salvation (Hebrews 10:10-12); for sanctification (Ephesian 5:26-27); for glorification (Romans 8:30)
Exact representation of God (Hebrews 1:3)
Fully God (Colossians 2:9)
The only God (Isiah 54:5)
Son of God (John 1:14, 18)
Mediator between God and man (Hebrews 1:3; 8:1)
Better than the angles (Hebrews 1:4-14); Moses, Arron, Joshua, Melchizedek, any profit and greater than Satan (Luke 4:1-12)
Defeater of death (1 Corinthians 15:55)
Our Prophet, Priest and King (Hebrews1:1-3)