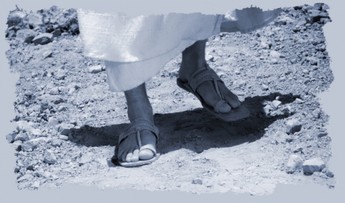 so that you will walk in a manner worthy of the Lord,
to please Him in all respect,
bearing fruit in every good work
and increasing in the knowledge of God;
Use the following list to learn what the scriptures teach about the Worthy Walk.
1. God called us to this Worthy Walk (Ephesians 4:1) (1Corinthians 1:2) (2Peter 1:10) (Philippians 3:14) (Timothy 1:9) (Hebrew 3:1) (John 15:16) Romans 8:30)
2. The Worthy Walk consist of these elements
1) humble walk (Ephesians 4:1-3)
2) united walk (Ephesians 4:4-16)
3) unique walk (Ephesians 4:17-32
4) loving walk (Ephesians 5:1-7)
5) illuminated walk (Ephesians 5:8-14)
6) wise walk (Ephesians 5:15-17)
3. While in our Worthy Walk we learn to be still (Psalm 46:10)
1) God allows our difficulties. He is in control.
2) There is purpose behind our trials – there is good reason.
3) When we respond correctly, the experience is a catalyst for growth in our spiritual walk. (Romans 8:28)
4. While in our Worthy Walk we "do not love the world, nor the things in the world…the world is passing away, and also its lust." (1 John 2:15, 17)
5. While in our Worthy Walk we resist the temptation to seek worldly honor, glamour and privileges. Undue attention to self, appearances, will lead to haughtiness, boastfulness, and indulgence, trying to show yourself as better than others. (Isaiah 3:16-26)
6. A Worthy Walk will not cause strife, jealously, disharmony and partisanship, otherwise known as factionalism among fellow Christians. (1 Corinthians 1)
7. The Worthy Walk is to regard others more important than yourself. (Philippians 2:3) (1Timothy 1:15)
8. The Worthy Walk is about encouraging one another (Hebrews 3:13)
9. In the Worthy Walk we make time for the involvement in the concerns of a Christian friend or relative. Their needs, tasks, gifts, character qualities, and ministries should be equally as important as yours. (Philippians 2:14)
10. Loftiness of calling should not be something we hold as a prized personal possession to exploit for our own benefit. To do so would be seen as those of worldly people of influence: not a characterization of those who claim to follow Jesus' standards in our Worthy Walk. (Philippians 2:5-6)
11. Jesus calls on us to be the salt and light of the world. As you walk the Worthy Walk, be the saltiness of the worldly, be the light that lightness the dark. (Matthew 5:13-16)
12. On our Worthy Walk our love and humility may be tested to the supreme, and we should be willing. "We know love by this that He laid down His life for us; and we ought to lay down our lives for the brethren." (1John 3:16)
13. During our Worthy Walk we will stumble, but our Lord will restore us. (1John 1:9)
14. Whatever you do during your Worthy Walk do so heartily; do so for the Lord rather for men. (Colossians 3:17)
15. During the Worthy Walk you will encounter various trails; which you will lack knowledge as how to proceed. Turn then to God asking in faith. (James 1:2-8)
16. We are not alone in our Worthy Walk. Jesus is with us. (Hebrews 4:15-16)
17. Never walk away during your Worthy Walk. Keep the steady pace towards God's calling. Do not be discouraged; your emotions are not reliable guides. Your Worthy Walk is not a call to success as much as it is a call to faithfulness (Jeremiah 1:5-8)
18. Take care not to practice or teach disobedience of any part of the scriptures during your Worthy Walk else you will become least in the Kingdom of Heaven. (Matthew 5:19)
19. Keep vigilant during the Worthy Walk; keep watch and praying. For the only way to deal with the Devil is to flee immediately, going into God's presents leaving matters to Him. (Matthew 26:40-41)
20. We should keep and teach the entire purpose of God so we can walk in a worthy manner during our Worthy Walk. (1 Thessalonians 2:10-12)
21. We do not lose heart and focus on those things we do not see while on our Worthy Walk. (2 Corinthians 4:16-18)
22. On our Worthy Walk having an inflated (arrogant) view of yourself will lead you down the path of "self-pride, forgetting that all those things you take for granted – food, housing, clothing, job, family – are yours only because of God's providence. (James 1:17)
23. On the Worthy Walk the humble believer trust God and does not hold a grudge even though they may have been mistreated, harmed or slandered. He doesn't demand his "rights"; he pattern his behavior after Jesus. (Philippians 4:5-11)
24. During your Worthy Walk let His light shine through you so others can see God and glorify Him. Your good works should magnify God's grace and power. This is the supreme calling of the Worthy Walk: glorifying God. (Matthew 5:16)
25. During our Worthy Wall our love and humility for other Christians will be tested. "Be kind to one another, tender-hearted, forgiving each other, just as God in Christ also has forgiven." (Ephesian 4:32)
26. On the Worthy Walk we ministry by planting the seed of the gospel by evangelism and watering it by further teaching; we do this with humility. (1 Corinthians 3:8-9)
27. Temptation will always be a part of our Worthy Walk: but faith in God's plan for us will lead us to take the correct direction. (Matthew 4:1-11) (James 1:2-4; 12-13)
28. On your Worthy Walk be a testimony to those who watch you; live what you profess as a Christian. (1Peter 2:15) (Titus 2:7-8) (Matthew 5:16)
29. During our Worthy Walk we will encounter injustice. We would not take to violence to bring justice; not even to defend or promote Jesus. (Matthew 26:52)
30. Regularly confessing and repenting keeps the pathway well maintained and free of obstruction as we precede with our Worthy Walk (1John 1:8-9)
31. As we encounter others on our Worthy Walk we take care of what we say, so it brings grace to those who hear. (Ephesians 4:29)
32. There will be many temptations to fall into sin along our Worthy Walk. We avoid sin by relying on God for Strength. We "walk by the Spirit". (Galatians 5:16-26)
33. The Worthy Walk includes that we discover our unique talents and spiritual gifts so that we can use them for His glory. (Ephesians 2:10)
34. There will be those who sin against us during our Worthy Walk; we should follow Christ's example and teaching and forgive. (Matthew 18:21-35) (Luke 23:34)
35. As we encounter those along our Worthy Walk we must be careful not to slander them not only in speech but in thoughts. (Matthew 5:32)
36. Along the Worthy Walk we nurture and practice love for one another. (1Peter 1:22-23) (1Thessalonians 4:9-10) (Romans 12:10) (Philippians 2:3-4)
37. Be charitable during the Worthy Walk. God wants us to be givers because the act of charity spiritually enriches the benefactor. (Luke 6:38)
38. No matter what trails may overwhelm us during our Worthy Walk we should never lose sight of others' needs. (John 19:26)
39. Our Worthy Walk sound not be worthy if we do not voice confession that we believe Jesus is Lord and heart felt profess that God raised Him from the dead. (Romans 10:9)
40. Our Worthy Walk will include our need to relinquish whatever is necessary to protect us from evil and preserve righteousness. (Matthew 18:8-9)
41. There will be stumbling stones on our Worthy Walk but we should not become one! (Mathew 18:7)
42. Guard yourself against the devil (roaring lion) on your Worthy Walk! (1Peter 5:8)
43. Practice brotherly love on the Worthy Walk so all men know you are a disciple of Jesus. (John 13:35) (1John 3:17-19)
44. We shall not retaliate against those who do us harm while on our Worthy Walk; "Never pay back evil for evil to anyone". (Romans 12:21)
45. We are guided by the Holy Spirit as we walk our Worthy Walk. (John 16:13)
46. Christ is our instructor and example as how to handle those who would persecute us while we walk our Worthy Walk. (Matthew 5:39) (1 Peter 2:20-23)
47. We will meet those who would corrupt us while on our Worthy Walk; don't be deceived by bad company. (1 Corinthians 15:33-34)
48. We are selfless as we walk our Worthy Walk. (Matthew 5:42)
49. Sound forth your love and praise for Jesus along your Worthy Walk. (1Thessalonians 1:1-10)
50. There will be those who will persecute you on your Worthy Walk; pray for them that they will repent and turn to Christ. (Matthew 5:44)
51. As saints on our Worthy Walk we shine the light of Jesus into the dark world. (Matthew 5:14-16)
52. Be hospitable to those you meet along your Worthy Walk; you never know you may be entertaining an angel. (Hebrews 13:12) (Matthew 25.40)
53. Along the way on our Worthy Walk we can comfort those in trouble with the comfort we receive from God. (2 Corinthians 1:3-4)
54. During our Worthy Walk we will experience Christian suffering, the means in which God transforms us into his image of Jesus. (John 15:20)
55. On our Worthy Walk we do not have control of our destiny but we do have a goal as commanded by our Savior; to be like Him. (Matthew 5:43-48)
56. We continue to pray on our Worthy Walk. (1Thessalonians 5:17) (Colossians 4:2) (Romans 12:12)
57. As we give to the needy on our Worthy Walk we do so without notice, without recognition. (Matthew 6:2)
58. We do not stray from the church on our Worthy Walk, taking care to be part of the body. (1Corinthians 12:18-26)
59. Our destiny at the end of our Worthy Walk is not temporal but the promise of Heaven. (Ephesians 1:11-13)
60. To keep our Worthy Walk worthy we should live a life worthy of the Lord and please him in every way. (Colossians 1:10)
61. Christ became man so he could empathize so on your Worthy Walk follow His example by not ignoring the hurts of others. (Hebrew 4:15)
62. Walking closely with the Lord on your Worthy Walk draws you closer to Him and He will draw closer to you. (James 4:8)
63. We can be sure that along the way of our Worthy Walk we will encounter the devil's schemes. We should prepare and stay prepared to stand against these schemes. (Ephesians 6:10-16)
64. We will meet challenges on our Worthy Walk. Choose to depend on God to endure. (2Corinthians 12:9) (Isaiah 26:3-4)
65. During your Worthy Walk if you find you lack wisdom then ask Him for wisdom to put things in the right perspective during trails so you can endure. (James 1:5)
66. The Worthy Walk is consisted of trails for which we learn we are depended on God. (Job 28:28)
67. Along the way on our Worthy Walk we may feel lonely: remember we are never alone. (Deuteronomy 31:6-8) (Joshua 1:9)
68. No matter where you go, what your thoughts, what you do on your Worthy Walk, God knows what, where, when and how. (Psalms 139)
69. We should stay prepared, watching our surroundings as we walk our Worthy Walk, staying alert to Satan's activities to tempt us. (1Peter 5:8-9) (James 4:7) (2Corinthians 10:5)
70. We are content with what we have as we walk the Worthy Walk; not being covetous or a lover of money; knowing what you have is only temporary and concentrating on the everlasting possession, our salvation. (Hebrew 10:34, 13:5) (1Timothy 6:10)
71. On our Worthy Walk we trust God to meet our basic needs. (Philippians 4:19) (Matthew 6:8, 33) (Deuteronomy 8:3) (Matthew 4:4)
72. Trails and tests set forth by God during our Worthy Walk should not be seen as some bizarre occurrence. (1Peter 4:12)
73. We keep an attitude during our Worthy Walk:
1) Humility – pride doesn't get in the way
2) Indebtedness – to the Lord's grace
3) Dependence – on the source of strength; the Lord's
4) Conviction – that God is real, in charge, and worthy of all the glory, honor and praise
74. We are ambassadors for God as we walk the Worthy Walk. (1Peter 3:15-17)
75. We must not lose sight of our goal as we journey on our Worthy Walk; to be Christ like. (Philippians 3:12-16)
76. Do not carry the burden of guilt during your Worthy Walk, confess and the Lord will forgive. (Psalms 103:12) (1 Corinthians 6:9-11)
77. Take hold of your Father's hand as you walk the Worthy Walk; He will protect you from sin. (James 4:7) (1Corinthians 10:13)
78. We must walk an uncompromised standard during our Worthy Walk; reflecting Christ's integrity. (1John 2:6)
79. During our Worthy Walk we can measure our spiritual growth by the following indicators:
1) Increasingly aware of our sinfulness and weakness
2) Desire to obey God intensifies
3) Increase in joy and struggle; we view trials and temptations as opportunities to mature
80. If we experience fatigue, tiredness or worry during our Worthy Walk let us not forget God's presence and power. (Isaiah 40:31)
81. As we walk the Worthy Walk we realize we have purpose. (Colossians 3:23-24) (1Peter 4:10-11)
82. We walk with integrity during the Worthy Walk. (Psalms 26:1-3)
83. Do not worry as you live the Worthy Walk; put all trust in the Lord. (Matthew 6:25-34)
84. We look to be servants of others not for those to be servants during our Worthy Walk. (Philippians 2:3-4)
85. We learn to be content during our Worthy Walk (Philippians 4:11-12)
86. During the Worthy Walk know the power that has been given to you and use it. (Ephesians 1:18-23)
87. Keep strong your beliefs, mindful not to fall into the evils you will encounter along your Worthy Walk (Romans 1:18-32)
88. Temptation will always be with you as you walk the Worthy Walk. You will never be given more than you can handle; God will provide a way out for those you cannot. (1Corinthians 10:13)
89. Do not dwell on tomorrow as we walk the Worthy Walk today; focus on the issues of today. (Matthew 6:34)
90. There is no place during our Worthy Walk for self-righteous judgement of others. (Matthew 7:1)
91. Maintain Faith, Hope, and Love during your Worthy Walk, remembering Love to be the Greatest. (1Corinthians 13:13-14) (1John 4:7)
92. Along our Worthy Walk we find we will need to be discerning and discriminating. The knowledge needed to be such we only need to ask for and our gracious Father will provide. (Matthew 7:7-8) (James 1:5)
93. We avoid emotionalism and legalism, and focus on living what we learn from a thorough and personal study of God's Word. Spiritual knowledge, wisdom, and understanding make up the pathway of the Worthy Walk. (2Timothy 3:16-17)
94. Is your Worthy Walk a step-by-step commitment to follow Christ? (Romans 6:4) (2 John 6) (1Thessalonians 4:1)
95. Humility is essential in our Worthy Walk. (Proverbs 11:2, 15:33, 22:4) (James 4:6)
96. On our Worthy Walk we should remain focused on the eternal not the temporary. (James 4:14-15)
97. God does provide what we need on the Worthy Walk but we must keep perspective of what we deserve. (Romans 8:28) (Genesis 32:10)
98. We come to understand during the Worthy Walk that the joy we receive from following this path is not about a cheery frivolous feeling, rather an inner sense of calmness, peace and confidence in our Lord. (James 1:2-4)
99. Glorify God during your Worthy Walk by keeping your integrity: by demonstrating the power and influence of an uncompromising life. (Daniel 3:14-30)
100. During your Worthy Walk how will your behavior and character hold up to the scrutiny of others? Keep your behavior excellent! (1Peter 2:12)
101. You are never alone on your Worthy Walk. (Hebrew 13:5c)
102. Forget not the Golden Rule as you walk the Worthy Walk. (Matthew 7:12) Luke 6:31)
103. Do not slack in praying as we journey on the Worthy Walk. (Colossians 4:2)
104. Take care of your body as you walk the Worthy Walk: it is the temple of God's spirit: it is a walking testimony to others. (1Corinthians 3:16-17)
105. Procrastination has no place in our Worthy Walk. (Romans 12:1-2)
106. As we walk with Christ on the Worthy Walk we change from the old sinful person to the new person Christ would have you be. (2Corinthians 5:17)
107. As we encounter vengeful, violent situations on our Worthy Walk we face it with gentleness. (Galatians 5:19-26) (James 3:13)
108. When we allow God to do His work as we follow the path on our Worthy Walk we will experience blessings, understand His power, and feel His love. (James 1:2-8)
109. In the Worthy Walk you have been empowered by God to pursue a life to reach out to other as to honor Him. (Matthew 5:16)
110. For the Worthy Walk God has provided everything we need in order to avoid sin. The Holy Spirit directs and empower us; the Word light our path so we do not slip. But we may choose to sin at times. God will not interfere with our free will. Instead he uphold us enabling us to walk his way. (Psalms 121)
111. We are the good shepherd on the Worthy Walk. You know your sheep and the sheep know you. (John 10:14)
112. We profess to be Christians on the Worthy Walk; we demonstrate by our good works. (James 2:17)
113. Know that the path of our Worthy Walk is kept straight by God. (Proverbs 3:5-6)
114. We remain strong during the Worthy Walk. (2Timothy 2:1-13)
115. Never waver in the pursuit of moral excellence during your Worthy Walk. (2Peter 1:5)
116. During your Worthy Walk when fears and worry strike remember to seek the Lord. (Psalm 34:4)
117. On the Worthy Walk you are not quick to anger and angered by those who offend God not you, and resolve the anger quickly. (Ephesians 4:26) (Proverbs 25:28
118. God is willing to teach and instruct us as we journey on the Worthy Walk. (Psalm 119:105)
119. Take care as what you say while on the Worthy Walk. (James 3:1-12)
120. Remember we keep a mindset of contentment as we continue the Worthy Walk. (1Timothy 6:6-8)
121. The wealth we find on our Worthy Walk is not of monetary gain but found in contentment. (1Timothy 6:6)
122. We know that during our Worthy Walk that our needs will be met. (Philippians 4:11-12)
123. Along the way on our Worthy Walk we will meet persecution. Do not be surprised, for this experience will strengthen our faith, purify our hearts and equip us for greater service. (1Peter 4:12-14)
124. On the Worthy Walk the Holy Spirit will use our tough times to clean away our defects of character and to bring us closer to God; to bring forth the fruit of the spirit with in us. (Galatians 5:22-23)
125. There will be those during our Worthy Walk that will need comforting. We are called to do so. (2Corinthians 1:3-4)
126. Be careful not to conform to this world as you proceed with the Worthy Walk; be transformed by renewing your mind. (Romans 12:2)
127. When someone criticizes or attacks you it is easy to strike back. This is not the way of the gentle Christian trying to walk the Worthy Walk. (Ephesian 4:1-2)
128. We as imperfect people would not test God by living in a reckless or careless way while on our Worthy Walk, expecting Got to rescue us when we get in trouble. (Matthew 4:7) (Deuteronomy 6:16)
129. Stay calm and patient with all that you encounter during the Worthy Walk. (1Thessalonians 5:14)
130. We have a provider during the Worthey Walk who knows what we need before we ask. (Matthew 6:31-41)
131. We will meet challenges during the Worthy Walk. Some for yourself and some for others. Encourage others so you can receive encouragement from others when you need it. (1Thessalonians 5:11)
132. We gather no material things on the Worthy Walk; for these things do not bring contentment. True contentment comes from walking with and for Christ. (Philippians 4:11-12)
133. You may not always understand God's reasoning in the events of the Worthy Walk, but you can always trust His purpose. (Romans 8:28)
134. During the Worthy Walk you will lose people, places and things. Remember all belongs to God and on loan to you. (1Chronicles 29:11) (Psalm 24:1)
135. Your needs will be met: be content as you go forward in the Worthy Walk. (1Timothy 6:8)
136. We as gentle people on the Worthy Walk do not condemn or gossip about those of us who fall into sin; we help restore them to their walk. (Ephesians 4:3) (Galatian 6:1)
137. Remember during your Worthy Walk; a gentle and quite spirit is precious to God. (1Peter 3:4)
138. We should share our Worthy Walk with others. (Hebrews 10:19-25)
139. Do not worry for those things you need as you walk the Worthy Walk, our Lord is faithful and provides. (Philippians 4:19)
140. Collect not to stockpile for the future. Walk the Worthy Walk knowing you will have enough. (Luke 12:15)
141. Do not become complacent on your Worthy Walk. (1Corinthians 10:12-13)
142. During our Worthy Walk we continue to surrender. In doing so we receive our Lord's abundance of His blessing. (Matthew 16:24-27) (Ephesians 3:20)
143. There is always a helper with you on your Worthy Walk; turn to him. (1Corinthians 2:12-13)
144. No need to worry about your needs on your Worthy Walk. Let your request be known by God. (Matthew 6:25-34) (Philippians 4:6)
145. Stay alert on your Worthy Walk. (Mark 14:31)
146. We are to stay the path of the Worthy Walk remembering the Christian mission. (Romans 8:29) (Ephesians 4:1)
147. Do not be worried aout how long you may live during your Worthy Walk. (Matthew 6:27)
148. We walk the Worthy Walk with patience; patient to negative circumstances, patient to difficult people, and patient to God's plan. (Hebrew 6:15) (1Thessalonians 5:14) (Romans 8:28)
149. When anxiety attacks along the Worthy Walk set your mind on thing above, not on things that are on earth. (Colossian 3:2)
150. Be strong in the Lord; arm yourself with the Word of God; protecting yourself along the Worthy Walk against the attacks of the devil. (Ephesians 6:10-17)
151. There will be trials, hardship and heartaches along the path of the Worthy Walk; these sufferings serving to conform you to be Christ Like. (2Corinthians 3:18) (1Peter 1:6-7)
152. There will be times the path is unclear in our Worthy Walk but trust God will guide us. (Genesis 12:1)
153. On this Worthy Walk whatever you do, speech or action, do it in the name of Jesus. (Colossian 3:17)
154. Every Day of the Worthy Walk Jesus will be the same loving compassionate, caring and understanding person. (Hebrew 13:8)
155. Seek to have Jesus' rule to be manifested in your life as righteousness, peace and joy in the Holy Spirit so as you walk the Worthy Walk. Those lost will see those spiritual qualities in yor life instead of worry; they see the Kingdom of God. (Romans 14:17)
156. As we go down the path of the Worthy Walk, God wants us to bear Spiritual fruit, displaying character like that of Christ. (Galatians 5:22-23)
157. Whatever the worry or fear we encounter during our Worthy Walk, turn it over to the Lord. (Philippians 4:6)
158. As we journey on the Worthy Walk we find that e are being at the hands of God conformed to the image of Jesus. (Romans 8:29)
159. Not only are we being conformed to the image of Jesus during the Worthy Walk, we are to spread the Gospel. (Matthew 28:16-20) (Matthew 11:28-30)
160. The Worthy Walk is about being imitators of God and Jesus (Ephesians 5:1-5)
161. The Worthy Walk is about being a model to other believers. (1Thessalonians 1:6-7)
162. Yes we should do good work along the way of the Worthy Walk not forgetting that those works, type or amount, don't bring us salvation. (Galatians 2:1)
163. We endure hostilities towards us on our Worthy Walk. (Hebrews 12:3)
164. On the Worthy Walk you are the extension of the Holy Spirit ministry; using your gifts to help other believers. (Colossians 3:12-13) (Hebrew 10:23-25)
165. Our outer person will be worn and hard pressed as we walk the Worthy Walk, however our internal being renewed, refresh daily by the Holy Spirit. (2Corinthians 4:16)
166. The Holy Spirit has lead and always will lead on your Worthy Walk. He is there to provide guidance (Ezekiel #6:26)
167. We walk by the Spirit, the Worthy Walk, keeping focus on God and his Word. (Galatians 5:16)
168. On our Worthy Walk our key focus is not on self but surrender: submissively trusting in the Lord. (Galatians 5:16-25)
169. A crucial element in the Worthy Walk is spending time with God in prayer. (1Peter 4:7) (1Thessalonians 5:17) (Ephesians 6:18)
170. During our Worthy Walk we are to rid ourselves old behaviors that prevent us from be imitators of God. (Galatians 5:19-21)
171. As you walk the Worthy Walk you are to help restore fellow believers who fell into sin. (Galatians 6:1) (2 Thessalonians 3:15)
172. We should be forth coming of our own sins allowing other believers to help us along the Worthy Walk. (James 5:16)
173. On our Worthy Walk we are to carry each other's burdens: that is mutual support. (Galatians 6:2)
174. Continually on our Worthy Walk we give thanks on every occasion for everything. (Hebrews 13:15) (Philippians 4:6)
175. We keep our focus on what is good and right while on the Worthy Walk. (Philippians 4:8)
176. In our Worthy Walk we walk away from those things of the flesh and walk to those things according to the Spirit. (Romans 8:5-11)
177. We are not perfect on our Worthy Walk; but the Holy Spirit will empower us to act and live in ways that pleases God. (1John 3:23-24) (Ezekiel 11:19-20)
178. During your Worthy Walk test yourself to see if you are in the faith; the Holy Spirit in your life. (2Corinthians 13:5)
179. In order to walk worthy the Worthy Walk, we must forgive and love our enemies. (Ephesians 4:2) (1Peter 4:8) (Proverb 10:12) (Matthew 5:43-45)
180. The Lord provides us with the power to resist the devil's schemes during our Worthy Walk. (James 4:7) (1Corinthians 10:13)
181. There is not a time for slothfulness or laziness during our Worthy Walk. (Ephesians 8-10) (1Peter 4:10) (Proverb 6:6-11)
182. The adversities we encounter on our Worthy Walk produces a deeper intimacy with the Lord. (1Peter 5:6-10)
183. The Holy Spirit intercede for us so we can consistently maintain our Worthy Walk with the Lord; praying properly for us, continually ensuring the security of our salvation. (Romans 8:26)
184. Know the spiritual fit given to you be the Holy Spirit. Use it faithfully and to its full potential as you walk the Worthy Walk. (1Peter 4:10-11)
185. It is not natural for man to seek God. So during our Worthy Walk we should share the Gospel with those we meet on the way. Jesus seek through us. (Mark 16:15) (Luke 19:19)
186. Feel secure in God's Word in your Worthy Walk. (Psalms 119:105)
187. We walk with the Light on the path of our Worthy Walk. (John 12:35-36)
188. We walk in fellowship with our Lord in our Worthy Walk. (1Joh 1:7) (Ephesians 5:8)
189. Are you spreading the Gospel awhile on the Worthy Walk, even to those who don't appear willing to receive? (John 4:35-38)
190. Pursuer of self-esteem is not mandated by God while on our Worthy Walk; He commands us to be holy. (1Peter 1:15-16)
191. God will be with you every step of your Worthy Walk. (Exodus 3:12)
192. Do not continue to walk in sin as you walk the Worthy Walk. (Roman 6:1-2) (Ephesians 2:1-2)
193. Follow the Lord's footsteps as we walk the Worthy Walk, keeping his Word. (John 14:23)
194. Walk forward, not looking back during the Worthy Walk. (Luke 9:61-62)
195. As you live in God's will during the Worthy Walk do you excel more to do so? (1Thessalonians 4:1)
196. Dress every day for spiritual battle on the Worthy Walk (Ephesians 6:10-18)
197. As Christians on our Worthy Walk we are free of sin not free to sin. (Roman 6:15-16) (Titus 2:12)
198. During the Worthy Walk remember to know the truths and not to practice them is to be judge by them losing the benefits they render. (Hebrews 12:12-17)
199. Our Lord will always be with you on your Worthy Walk regardless where the path leads you. (J14:16-18)
200. Our union with Christ is so that we bear fruit for God on our Worthy Walk, bringing Him glory. (John 15:1-5)
201. On our Worthy Walk we remain humble and contrite. (Isaiah 66:2)
202. The only one who can live skillfully in the Worthy Walk is the one who lives according to God's wisdom (James 3:13)
203. Do not walk the Worthy Walk with jealousy and selfish ambition in your heart; placing yourself before God and others. (James 3:14)
204. Do you carry the Light on your Worthy Walk? (John 1:1-9)
205. Are you walking wisely on the Worthy Walk? (Ephesians 5:15)
206. We keep a discerning mind on the Worthy Walk, so as not to be deceived. (Hebrews 5:11-14)
207. Make most of your time on the Worthy Walk. (Ephesians 5:15-17)
208. Align yourself with God's will on the Worthy Walk. (Ecclesiastes 12:13-14)
209. Your lfe on this Worthy Walk should demonstrate a Christ like humility. (James 4:10)
210. God will give you the strength to carry out His will as you continue the Worthy Walk. (Philippians 2:13)
211. During the Worthy Walk do not assume that someone you meet can do without your aid and friendship. We are called to minister to each other. (1Thessalonians 5:11)
212. Humble yourself to the Lord on this Worthy Walk, and He will exalt you. (James 4:10)
213. On our Worthy Walk we faithfully serve as the moral and spiritual Leaven of His kingdom. (Matthew 13:33) (Matthew 16:12)
214. Our Worthy Walk is to witness (1John 1:1-4)
215. Be filled with joy and peace in believing from being on this Worthy Walk. (Romans 15:13)
216. On the Worthy Walk we live the Christian life, that is becoming what we are, a child of God. (Ephesian 4:1)
217. Are you achieving the goal of the Worthy Walk; the unity of the Spirit? (John 17:21)
218. We keep a scriptural attitude about our work while on our Worthy Walk. We know God is our first boss. (Colossians 3:22-24)
219. We must have peace among ourselves during our Worthy Walk so unbelievers look to us to find peace with God. (Romans5:1) (Corinthians 5:18)
220. We find peace on our Worthy Walk by being selfless, the primary characteristic of Christian love. (Philippians 2:3)
221. We reflect Christ in our work during our Worthy Walk: treating our work as an extension of our service to the Lord. (Ephesians 6:5-8)
222. You may live a righteous life on your Worthy Walk but is it because of legalism or because of your deep love for Christ? (Matthew 23:25-26)
223. All believers on the Worthy Walk are united as one for the Holy Spirit dwells in all. (Ephesian 1:13-14; 4:4-6) (1Corinthians 6:19)
224. You are an ambassador of Christ on your Worthy Walk; as faithful witnesses to the gospel will proclaim God's certain truths by His authority and with His power. (Matthew 7:28-29; 28:18b-29a) (John 12:49)
225. On the Worthy Walk we pray and we listen for our Father's reply. (Psalm 145:5)
226. As Christians on our Worthy Walk we have the same Father, on Body, one Spirit, one hope of our calling, one Lord, one faith, and one baptism. We hold to these and are a powerful witness to the world. (Ephesians 4:4-6)
227. On the Worthy Walk we come to know God's uniqueness that he is above all, through all, and in all. (Ephesians 4:6)
228. As you spread the Gospel during your Worthy Walk emphasize the importance of repentance. (Matthew 4:17) (Acts 2:38) (2Timothy 2:25)
229. Keep hope within on the Worthy Walk; God is our anchor during stormy times; God provides strength for the weary body, peace for the anxious mind, and comfort for the grieving heart. (Hebrews 6:13-20) (Proverbs 13:12)
230. On the Worthy Walk we must take care of ourselves; the body, the temple of the Holy Spirit. (1 Corinthians 3:16)
231. Our worthy goals on the Worthy Walk would be that of St. Paul's. (2Timothy 4:7)
232. You are on this Worthy Walk not because you chose to but because you were chosen. (John 15:16)
233. Every good thing we receive on the Worthy Walk comes from God. He alone deserves the glory; we cannot take any credit. (Ephesians 4:2)
234. God will give you what is best for you on the Worthy Walk. (Isaiah 48:17)
235. When Jesus calls upon you on your Worthy Walk will you respond immediately? (Matthew 4:19-20)
236. On the Worthy Walk we pursue God, to know God. (Philippians 3:18) (Proverbs 9:10) (1Chronicles 28:9) (John 17:3) (Jerimiah 29:13)
237. Remember why we are on our Worthy Walk; we were saved so that we might serve. (Ephesians 2:10)
238. Walk with the spirit of power and love and discipline on the Worthy Walk. (2Timothy 1:7)
239. While on the Worthy Walk we live holy lives; by God's grace we are holy. (1Peter 1:15-16) (1Corinthian 6:11) (2Corinthian 5:21) (2Timothy 2:19) (Hebrew 12:10)
240. During our Worthy Walk we spend time with those who lead holy lives. (Proverb 13:20) (1Corinthian 15:33)
241. We live a distinctive lifestyle on the Worthy Walk, as marked out in Jesus' sermon on the mound. (Matthew 5:2-16) (1Peter 1:15-16)
242. The Lord is with you regardless of where you may be on the Worthy Walk. (Jeremiah 23:24) (Ephesians 3:19)
243. On the Worthy Walk ae what the Lord looks for and affirms? (Isaiah 66:2) (Psalm 34:18) (Psalm 51:17) (Matthew 5:3)
244. God is always with us on the Worthy Walk. (Hebrew 13:5) (Matthew 28:19-20) (Proverb 15:3) (Job 34:21-22)
245. We may acquire much along the way on the Worthy Walk. We must remember what Jesus taught us about treasures. (Matthew 6:19-21)
246. On the Worthy Walk we learn that God has unlimited power and control over everything. (1Chronicles 29:11)
247. Your life as one of God's Children on the Worthy Walk is characterized by steady reliance upon the Holy Spirit. (Zachariah 4:5-6) (Roman 11:11-24)
248. On our Worthy Walk through the power of the Holy Spirit we are empowered to show selfless and sacrificial devotion to the development of another person: agape. (1 Corinthians 13:4-7) (Galatians 5:22-23)
249. On our Worthy Walk we wait on the Lord and gain new strength; will run without tiring, walk without becoming weary. (Isaiah 40:31) (Philippians 4:13) (Ephesian 3:20) (1Peter 5:6)
250. Even though the eternal penalty for sin has been paid by Christ, when we do sin along the way on the Worthy Walk, repent because He knows! (Isaiah 66:18) ( Ecclesiastes 12:14) (Hebrew 12:5-11)
251. You might become frustrated on your Worthy Walk as you see sin in your life. But know that God knows that you still love Him in spite of your failings. (John 21:17)
252. No sin you may commit during your Worthy Walk can be greater than God's abundant grace. (Romans 5:20) (Ephesians 1:6-8)
253. On the Worthy Walk our salvation should be an expression of Jesus' life; the seeds planted within you will flourish. (Matthew 5:13-16) (Isaiah 55:10-11)
254. Seek to maintain spiritual integrity on the Worthy Walk. (Philippians 1:9-10)
255. As we journey on the Worthy Walk we should never lose sight that God hates sin and without His saving grace we would fall under his wrath. (Romans 1:18) (Ephesians 2:3) (John 3:36)
256. While on the Worthy Walk we proclaim God's glory in our words and our deeds. (1Timothy 4:12) (Psalm 29:1-2, 9)
257. Never doubt or deny the truthfulness of God's Word during your Worthy Walk. (2Timothy 2:15)
258. How do you please Christ on your Worthy Walk? "Walk according to His commandments." (John 14:15) (1John 2:6)
259. Of those who would sin against us during our Worthy Walk we should forgive and forget; God does. (Jeremiah 31:34)
260. On the Worthy Walk is the characteristic of your life is to grow in grace and knowledge of Christ? (2 Peter 3:18)
261. During the Worthy Walk be spiritually stable, that is steadfast and patient. (Colossians 1:11)
262. You will receive kindness from others on the Worthy Walk. Thank them but in doing so understand that they are instruments of God's grace. (James 1:17) (Roman 1:8)
263. Walk wisely; be careful how you walk on the Worthy Walk. (Ephesians 5:15-17)
264. As you go the Worthy Walk carry the Word, refer to it frequently, learn its truths. (2Peter 1:20-21) (2Peter 1:3) (Hebrew 4:12) (Romans 10:17)
265. "Pray without ceasing" on the Worthy Walk. (Thessalonians 5:17 (Ephesians 6:18) (Luke 18:1)
266. We prepare and arm ourselves for the Worthy Walk with the Word. (Ephesians 6:13-17)
267. On our Worthy Walk the devil will try to influence or divert us; "Resist the devil and he will flee from you". (James 4:7b)
268. We strive for a closer relationship with God on the Worthy Walk. (James 4:8) (Psalm 73:28)
269. On the Worthy Walk we come to understand the sinners we are and humble ourselves to God. (James 4:8) (Ezekiel 18:31) (1John 1:9)
270. God has regenerated our hearts before we began the Worthy Walk. We continue to take direction from Him as we are drawn closer to Him. (Matthew 5:8) (Proverbs 4:23) (1 Samuel 10:9) (Psalm 19:14)
271. While on the Worthy Walk we realize the severity of sin and "morn and weep" of having sinned. (James 4:9a) (2 Corinthians 7:10-11) (Matthew 5:3-4)
272. Seek forgiveness for any thoughts or actions that may stray you away from your walk with God on the Worthy Walk. (1John 2:15-17)
273. Avoid falling into sin on the Worthy Walk by walking in the will and way of the Holy Spirit. (Galatians 5:16)
274. Strive to be a peacemaker on the Worthy Walk. (Matthew 5:9)
275. As a peacemaker on the Worthy Walk our purpose is to preach "peace through Jesus Christ". (Acts 10:36) (Matthew 5:9)
276. On the Worthy Walk we are reminded that every gift, every ability comes from God. (1Corinthians 4:7)
277. On the Worthy Walk be certain to live apart from the world and its allurements. (James 4:4) (1John 2:15-17)
278. God will use you for His glory as you journey on the Worthy Walk. Make yourself available and obey Him! (1Corinthians 1:26-31)
279. The Worthy Walk includes making personal sacrifices and suffering in the name of Christ. He did for you, are you willing to do the same for Him?! (Matthews 5:10) (Matthew 10:35-39) (Matthew 16:24-25)
280. Do not allow selfishness and conceit prevent you from doing God's will during the Worthy Walk. (Philippians 2:3) (1Corinthians 3:3) (Galatians 5:16)
281. Promote the Kingdom of Christ while on the Worthy Walk through your prayers and faithful ministry. (Matthew 6:10) (Luke 17:21)
282. While on the Worthy Walk confess any known transgressions to the Lord and turn from them. (1John 1:9) (Revelations 21:27)
283. There will be those who will curse and slander us because of our Worthy Walk but we will be blessed byou our Lord. (Matthew 5:11
284. While on the Worthy Walk no service or sacrifice for the Lord will be in vain. (Mark 10:29-30) (Revelations 20:4) (Matthew 5:10-12)
285. Do not refuse to do for the Lord on your Worthy Walk because you feel inadequate; we have the spirit of power, not of timidity. (2Timothy 1:7)
286. On the Worthy Walk don't allow our feelings of inadequacy be a roadblock to doing the Lord's will. (Judges 6:15) (2 Corinthians 12:9)
287. We continually seek God's will on the Worthy Walk; seeing beyond our circumstances, praying for wisdom of what God wants to accomplish through them. (Psalm 119:27, 32-35) (Matthew6:10)
288. We are called to influence as we go on the Worthy Walk. (Matthew 5:13-16)
289. Are you reflecting Christ's light on the Worthy Walk? (Matthew 5:14-15)
290. Can you pass the test of fire for the way you live and work on the Worthy Walk? (1Corinthians 3:10-15)
291. Are you totally dependent on God? If not expect to face more trails on the Worthy Walks. (1Corinthians 10:13) (James 1:2-4)
292. On the Worthy Walk seek to know God more when you feel the need to be better understood; we were created in His image. (Genesis 1:26) (Deuteronomy 4:29) (Jeremiah 28:13)
293. When hardships arise on the Worthy Walk we turn to God for instructions and direction. (Psalm 32:8) (Psalm 34:4-7)
294. On the Worthy Walk are you one of God's lights in this sin darkened world? (Matthew 5:3-15)
295. Rejoice knowing that when we stumble along the way on the Worthy Walk our Lord is ready to forgive and restore us (1John 1:9)
296. On the Worthy Walk a key to genuine obedience is to "let the word of Christ richly dwell within." (Colossians 3:16)
297. Are you staying faithful to our Lord on the Worthy Walk? (Matthew 26:56) (Ephesians 5:15-21)
298. On the Worthy Walk total obedience is what pleases God. Are you pursuing righteousness? (Matthew 5:20) (Matthew 6:33)
299. Devine perspective, surrender, and firm faith are the ingredients for a successful Worthy Walk. (2 Corinthians 12:9-10) (John 14:27)
300. By forsaking the worldly way you have chosen a narrow path this Worthy Walk. Let the Holy Spirit be your guide, directing your steps towards new opportunities and offers discernment so you can make wise decisions that keeps you on course for God's will. (1John 1:5-10) (Matthew 7:13)
301. On the Worthy Walk you are to help others reconcile with each other and with God. (Matthew 5:9) (Roman 10:15)
302. Submission, restraint, humility, sacrifice and love are characteristics you should take on during the Worthy Walk. (Matthew 17:24-27) (Luke 22:49-51) (John 21:18-19) John 13:6-9, 34) (1Peter 2:13-18, 21-23, 4:8, 16) (1Peter 5:5)
303. God will perfect the work he has begun in you as you journey the Worthy Walk. (Philippians 1:6)
304. On your Worthy Walk as you come across unbelievers do you bring them to Christ? (John 1:25-37, 40-42)
305. On the Worthy Walk do you maintain an uncompromised standard that reflects the integrity of Christ Himself? (1John 2:6)